Welcome to Dark Sky Observing in Arizona.
Located on top of the Colorado Plateau in Northern Arizona along with Lowell Observatories in Flagstaff, Anderson Mesa, and the 4.2-meter Discovery Channel Telescope under construction in Happy Jack, the Apache-Sitgreaves Center for Astrophysics in Overgaard, Arizona is located at a world class dark sky site at just under 7000 feet elevation. The skies are not only extremely dark but very transparent, with sub-arcsecond seeing on most nights.
The Apache-Sitgreaves Center for Astrophysics Plan
Details of the future equipment and science that will be carried out.
Pictures and details of all my scopes, Elements in Harmony I, II, III, and IV, 'I' an 8"f6 German Equatorial - Stellafane Winner, 'II' a 20"f4.2 Newt-Dob - Astrofest Winner, 'III' a 6"f3.5 Finder/Newt-Dob, and 'IV' a 36"f4.5 Newt-Dob, are found here.
Overgaard Star Party info plus pictures from years past.
I've had the honor of having an asteroid named after me, and pleasure of being a main presenter at a star party, plus many articles published in Astronomy, Sky & Telescope, and, Astronomy Technology Today magazines. Check out this link to see the items.
Observations with the 20" and 36" scopes (see also the Wizard's Challenge link at the bottom of this page).
How much snow?!?
Humans, Elk, Deer, Coyotes, Wolf, Cougar, Javelina, Birds, and other Critters.
Current Moon Phase and Solar Activity.
Steward Mirror Lab, Meteor Crater, Lowell Observatory, Mt. Graham, and, the Discovery Channel Telescope....
Avid visual observer and telescope builder.
Thanks for stopping by.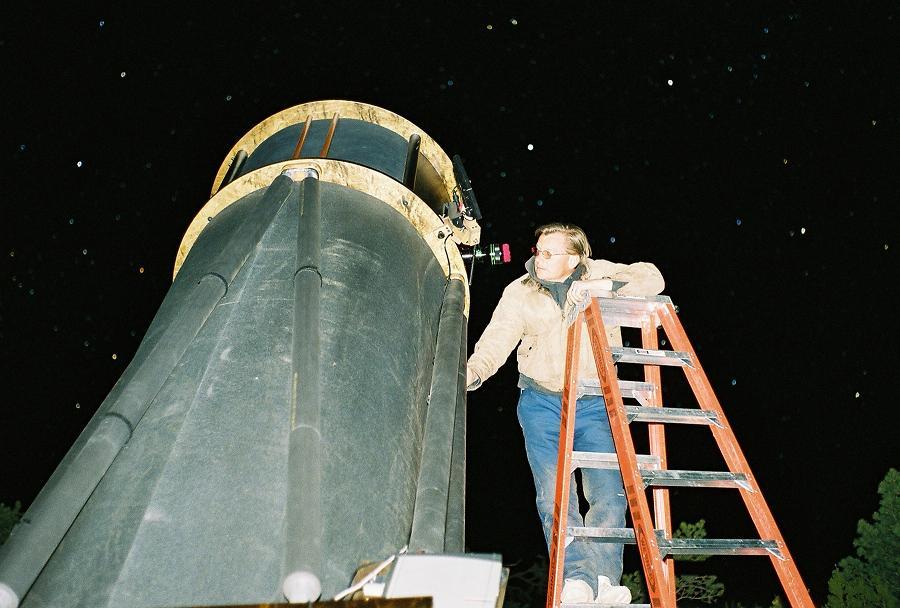 A challenging observing list.